ESF 1650: Group ski lessons - Adults from 12 years old
Address: Maison de Moriond, 73120 Courchevel Moriond
Date: Sunday 3 mar 2019 - Monday 8 Apr 2019
Show map

Address: Maison de Moriond, 73120 Courchevel Moriond

Adults group courses are the best way to explore the extensive Courchevel Valley ski area, well advised by our ski instructors.
You will enjoy their knowledge of the area and technique expertise to improve your skills and style confidently while experimenting various snow types and terrains.

Select your level:
- Beginner: Never been on skis before
- Class 1: Holders of the "1er ski" qualification; able to complete snowplough turns.
- Class 2: Holders of the "Class 1"; able to complete a series of elementary turns (converging skis, sideslipping with the skis parallel at the end of the turn) and starting to sideslip.
- Class 3: Holders of the "Class 2" qualification; able to descend in a basic parallel turn, complete a basic high-speed turn and control sideslipping.
- Class 4: Holders of the "Class 3" qualification; able to complete perfect parallel turns, who are also completely comfortable with high-speed turns and have some experience of skiing in all kinds of snow and terrain.


Possibility to book the lunch
Show more
Book now - choose start date and product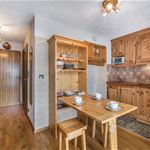 Self-catered apartment
Distance: 61 meters
COURCHEVEL Moriond - CEYLAN LABEL COURCHEVEL ''MONTAGNE'' The 202 apartment is a 20m². accomodate up to 3 guests. Ideally located on the 2nd floor (without lift) of the Residence CEYLAN, within the resort very center. MAIN ROOM
Hotels
Distance: 47 meters
In the heart of Courchevel Moriond, with a panoramic view over the valley, the hotel Blanche Neige is situated at the foot of the ski runs in a natural setting of outstanding beauty.
Hotels
Distance: 67 meters
Fahrenheit Seven Courchevel, a state of mind ! One of the best location in Courchevel Moriond 1650, Ski In, Ski Out, amazing views on the slopes, the villages and the mountains °FAHRENHEIT SEVEN it is a new philosophy of hospitality.